By Jennifer Dulin
ABN Managing Editor

  Thinking outside the box is hardly a new mantra for Collectors Editions, who opened its doors to 64 galleries and entertained more than 120 guests during an exclusive three-day event at the company's headquarters in Los Angeles.

  "A Journey Behind the Canvas" proved to be an all-access event for the gallery attendees, who enjoyed exclusive debuts of new artists and programs, special open-house pricing, behind-the-scenes education and entertainment—Hollywood style.

  Transforming its offices and production facility into a gallery-like setting, Collectors Editions was able to showcase well over 500 pieces of artwork throughout the course of the event. Offices were converted into themed rooms for originals, Disney Fine Art and specific attending artists. And, 10-foot gallery walls were raised in the middle of the production area to showcase new artists, unveil new programs and more.

  "We wanted to fully show our galleries who we are and what we do," says Michael Young, president and CEO of Collectors Editions. " For a publisher of our size, we owe it to the artists, our galleries and our employees to have an event like this—something that's fun, fresh and truly beneficial for our gallery clients."

  ABN Managing Editor Jennifer Dulin was fortunate enough to be along for the ride to help readers relive the experience. The 64 galleries who arrived at Collectors Editions on Feb. 19 came ready to purchase, and purchase they did.

  "We definitely exceeded our projected sales target," Young reported after the event. "More than half of the attending galleries added new programs to their current portfolios, and we had great success with the prospective galleries we brought in."

  The Power of the Red Dot

  The galleries who participated in "A Journey Behind the Canvas" traveled from 20 states across the country, all in search of different artists, mediums and works. Though diverse in their representation, their overall mission was the same—to find fresh, exciting art to fill their gallery walls.

  "I'm looking for things that wow me because I know that's what my customers do," says Don Kelley, owner of Kelley Frame and

  Fine Art Galleries with locations in Wisconsin and Minnesota. "We need that next big thing to get excited about and get behind for our customers."

  Most galleries had a strong preference for original works, which were some of the biggest sellers throughout the event. When sales opened the first morning, the eager group of buyers had a heyday sticking their personalized red dots on the varied pieces on display. Originals were among the first to go as buyers swarmed the originals room, ready to claim their newfound treasures.

  "Originals were definitely the priority on the first morning," says Helen Tu, national sales director for Collectors Editions. "It was a whirlwind of sales activity, and buyers were excited."

  Tu reported strong original sales across the board for artists such as Andrew, Sabzi, Brian Davis and more. The print programs picked up later, as many galleries were looking for merchandise to supplement their purchases of original art.

  Making its debut at the event was the Signature Originals Collection, a program launched in response to the request from galleries for affordable, quality originals with price points in the range of $3,000 to $6,000. The works were hot sellers from the minute they were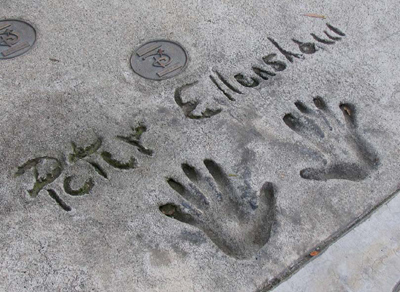 Tour guides for the Walt Disney Studios trip were sure to point out the late Peter Ellenshaw's name engraved in the concrete of the Disney Legends Plaza.
hung, and two of the artists completely sold out during the first viewing.
  Case in point: the Schwartzs. Carol and Elliot Schwartz, owners of The Carol Schwartz Gallery in Philadelphia, purchased two originals from the debuting collection. "We used to do a lot with Collectors, and then we sort of fell out of it," Carol Schwartz says. "This was a good, smart way to get us back into their programs and get us excited about their art again."