Education. Celebration. Success. These important messages and more rang true during Collectors Editions' second annual Gallery Forum, held in February at the company's headquarters in Canoga Park, Calif.

This year's theme, "Defining the Lines," encouraged the 47 attending galleries to delve deeper into Collectors Editions' processes, artists and programs in a way that made each attendee feel like part of the family.
| | |
| --- | --- |
| | |
| Michael and Inessa Garmash are shown with gallery owner Linda Schneider and Collectors Editions CEO Michael Young at Old Kiev restaurant. | Tim Rogerson was one of many artists who painted live at the Collectors Editions Gallery Forum. |
"This year was all about defining what we do for our galleries and finding new ways that we can help them with their businesses," Michael Young, president and CEO, says. "It's challenging right now, but we need to continue to look forward and keep our energy and momentum to get through this cycle together. That's what the event is about, and I think everyone felt that."

Norah Lynne Brown, co-owner of Gallery Onein Mentor, Ohio, has been in the business for 35 years. She says the event reminded her of the "good old days" when publishers really showed how much they valued and cared about their dealers. "I don't have enough superlatives to describe the amazing nature of this event," she says. "The artwork was sublime, and the staff was fabulous. We felt like privileged members of their family."


EDUCATION
A stronger emphasis on education encompassed nearly every aspect of the 2008 event, and an increased number of artist appearances and workshops meant more gallery interaction and valuable networking time.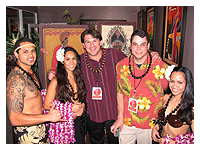 Michael Young and Tim Dickson are shown during the opening night luau held at Collectors Editions.
For first-time gallery owner Linda Schneider of LRS Gallery in Rockville Centre, N.Y., the education and the chance to meet with so many artists and industry counterparts was invaluable. "To see the trends and hear firsthand from the gallery owners was wonderful, but being able to meet the artists was most valuable because the stories and experiences are what will help sell the art," she says.

Workshops with Sabzi and Toby Bluth and a visit to the California studio of Michael and Inessa Garmash provided unprecedented insight into their personalities and processes while artists Trevor Carlton, Tim Rogerson, Brian Davis, Irene Sheri, Mike Kupka and Andrew could all be found painting and embellishing live at the event.

Taking visitors a step further into the worlds of select artists, the company hosted themed evenings honoring Garmash and Andrew. A Russian night with Garmash at Old Kiev restaurant featured dancing gypsies and 22 of the artists' original paintings. To pay homage to Andrew's passion for Latin music and influences, galleries spent a fun-filled evening at The Rumba Room complete with Latin dancers and a selection of the artist's new jazz-inspired work.

Areas of the corporate office were displayed in themed vignettes to give gallery owners examples of how to showcase and market individual artists in their galleries. The company highlighted the different types of marketing support it offers, including signage, books, advertising assistance and more. And, all participants were given a catalog with information on each artist and related programs as a resource they could use once they returned to their galleries.

A sales workshop and tribute to the late John Alvin with Craig Kausen, CEO of Linda Jones Enterprises, inspired galleries to rise above economic negativity and take action in a weak economy. The company also took its printmaking tour of the Eclipse Workshop a step further by covering the color-correction process and demonstrating the ways canvases are textured.

As an industry veteran, Brown and her husband, Alan, are well versed in many areas of art, but the printmaking tour was one they chose to take again to be sure they had absorbed every single detail. "We really appreciated seeing how the product comes to fruition," Brown says. "Their commitment to quality is so important now that places like Bed, Bath & Beyond and Sam's Club are into giclées. You can really see the difference."


HOMEGROWN SENSIBILITY
The close-knit, family mentality already shared among the Collectors Editions staff and artists was quickly transferred to their gallery guests.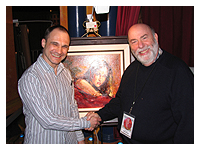 Arist Andrew is shown with gallery owner Alan Brown. 
"They made an effort to spend quality individual time with every dealer; I wouldn't hesitate for a moment to call Michael (Young), Tim (Dickson) or Helen (Tu) and ask them a question," Brown says. "It's evident that they want to do a good job in this market."

Collectors Editions even extended its hospitality to a few of the visiting galleries' clients. Where the Magic Begins, a gallery located in Livermore, Calif., invited 28 of its collectors to come spend the day touring Disneyland with Harrison Ellenshaw and the Gallery Forum group. The gallery's clients then spent a day at Collectors Editions' headquarters.

"The galleries had an extremely successful two-and-a-half days," Young says. "It was really exciting and pumped energy into the industry. I left the event feeling really good." ABN