As seen in ART BUSINESS NEWS AUGUST 2009 ISSUE
FLOWER POWER
Floral Art Boasts True Staying Power
BY DANIEL MULLEN – ABN CONTRIBUTING WRITER
"Floral art is a strongly favored genre," says Helen Tu, director of global sales for Collectors Editions. "People find great enjoyment in nature's powerful simplicity, embodied in the gorgeous undulations of flower petals. And by extension, the lovers and admirers of specific flowers enjoy adorning their homes with floral art; it is a natural and artistic expression of life and its beauty."
Tu says collectors of floral art range from general admirers to people who specifically collect certain species and varieties of flowers. She adds that while some people might be quick to generalize or assume that floral art serves a predominantly female demographic, many important painting commissions by Collectors Editions' floral artist Brian Davis have been initiated by male art patrons.
"Although roses are a perennial favorite, we have found that most floral paintings, regardless of the type of flower, appeal to a wide spectrum of the population," Tu says. "The appeal of floral paintings is timeless and universal, and we continue to find that they remain successful in nearly all markets. Not only do floral works cross all demographic groups, but they also appeal to people in all age groups. The wide range of forms showcased in the genre, from simple and bold to complex and delicate, ensure a remarkable diversity in floral paintings. We feel strongly that floral art will continue to flourish."
Collectors Editions has enjoyed success in floral art sales because the genre projects boundless diversity of color, form and character and continues to bring the light and exuberance of nature indoors. From a practical perspective, the genre is easily incorporated into a range of interior-design concepts because it enhances homes and offices with a sense of life and natural serenity.
Distinct Interpretations
BRIAN DAVIS:
SKILLED PRECISION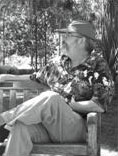 Brian Davis' striking floral renderings are both contemporary and timeless. The depth in Davis' highly collected art is derived from his careful attention to the subtle shifts in value--relative dark and light.
"The light is the real subject of my work," Davis says. "The flower is the stage, and the light is the dancer."
Davis' patrons often ask whether there is a light box behind the canvas that is creating the light in the painting, or they assume it is the gallery lighting that illuminates it. However, when the work is taken off the wall and removed from any type of artificial light source, collectors marvel at the natural light Davis has so expertly captured in his paintings.
Davis spends extensive time researching and scouting for flowers or scenes that catch his eye. He carries a camera everywhere so he can shoot a subject at any moment. Because flowers will so quickly, and if can take him weeks to complete a painting, Davis has found a way to create a floral image from a series of different shots of each flower. He purposely paints in a larger-than-life-size format for the sheer visceral impact it gives his works.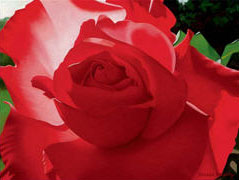 "Brilliant Red Solo Rose" Giclée on Canvas by Brian Davis
© Collectors Editions. All Rights Reserved.