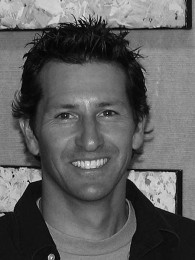 Mezak is an impressionistic artist of Hungarian and Italian descent. "I want the mood of my painting to transfer over to the people viewing it, so they feel as if they are there...at that very place in time." Born in southern California in 1971, Trevor Mezak has been painting since his teens.

His newest figurative series involves a character named "The Journeyman." Each painting in the series represents a memory from his journey through life. This character is in the final stages of life and reflecting on the times that mattered most. Trevor's idea behind this series is that "many of the fleeting moments in life will return to be our most treasured memories."

His self-taught style has evolved through his vast experience with mediums and technique. Oils, because of their vivid color and texture, have proved to be his medium of choice.

Trevor Mezak has placed in exhibitions, both locally and nationally. His pieces can be found in many private and famous name collections such as Michael Brown from the Chicago Bears and Paul Walker from the "Fast and the Furious". Currently his work is on display in many respected galleries in southern California and at his newest location in Pennsylvania.